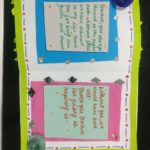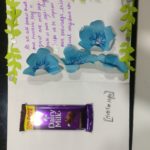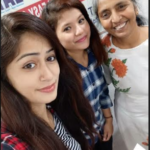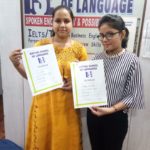 Why students are proud to join British school of Language for English speaking courses?
Recently, our two students of Spoken English course gifted a farewell card and a chocolate to their teacher Mrs. Sudha Ahuja. And this is not the first time, several students earlier too have acknowledged the hard work and motivation of our faculty.
After learning English speaking course at British School of Language Pitampura (An Institute for English Speaking, IELTS Training and Public Speaking), students are so much spellbound by the teaching techniques of the faculty that they don't have words to express. They feel proud and worth to join BSL,because, after the completion of their course – 
They feel confident in speaking English
Their fluency of spoken gets improved
Their fear of speaking English is shed off
Their communication skills are polished
In our English-speaking courses, British school of Language conducts various activities such as –
presentation classes,
chatting sessions,
group discussions on current topics
and outdoor excursions.
These activities are conducted under the presence and guidance of our expert, experienced and learned teachers. These teachers try to embed the concepts of English by handling practical activities, which improves the communication skills, English speaking fluency and Public speaking of the students.
So don't just read, if you want to learn English speaking, book your free trial class today and Join us. You will not regret.