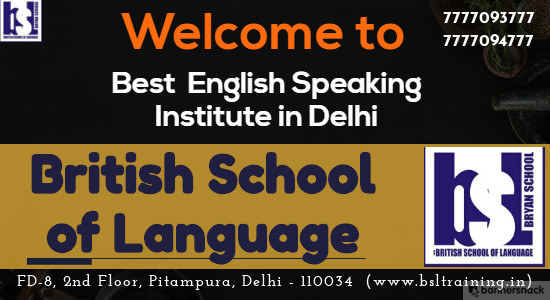 About English Speaking Institute – British School of Language
(Spoken English is easy and possible at BSL)
Our foundation …… BSL Pitamura has a massive 25 years of experience in the field of education & teaching English Language Skills. Through our experience, passion and persuasion, we deliver the students the power to unlock the domain of English Language. This delivers confidence and command to the individual to attain success. We train the students with the skill to attain efficiency and fluency in Spoken English. We help them to achieve a better career.
OUR TECHNIQUES…at British School of Language, Pitampura, we use the latest and reliable techniques of teaching, which are the result of latest requirements in English language learning.Our classrooms are pleasant, interactive and revived according to the students' requirements.We prefer micro(small) batches of students for better understanding & interaction.
WELL EQUIPPED CLASSROOMS…our classrooms are Air-conditioned and well equipped with whiteboards, audio/video aids and comfortable furniture.
EXPERT & Co-operative FACULTY… Our faculty is the key asset of our organization. BSL is known for its excellent faculty with a wide range of experience. The teachers are hardworking, co-operative, passionate, cordial, approachable and worthy counselors.
EXPERIENCE… we have an extensive experience and deep knowledge in the field of teaching English speaking Courses to the students according to their requirements.
_______________