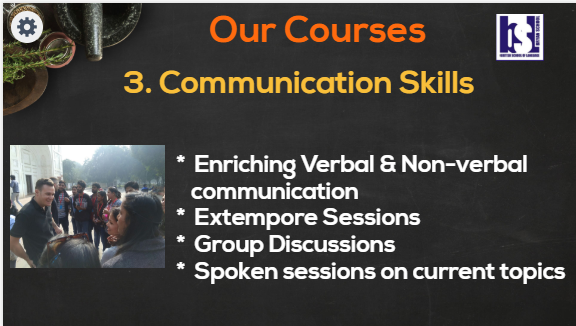 The ability to communicate effectively with others is essential, no matter what industry you work in. This English Speaking course enables you to interact confidently and impressively communicate with others. It allows us to build and improve social respect and trust, resolve differences and enhance employability.
Course Objectives: –
Intensifying listening skills

Understanding and enriching verbal and non-verbal communication

Working on oratory skills

Confidence building

Group Discussion Sessions

Spoken sessions on current topics.
Click the Link and watch an outdoor English workshop was conducted by BSL. In this video, you can see the BSL Communication Skills Course students interacting with the foreigners at Qutub Minar. Click Here for Video
Duration – 1 month
Classes – Monday to Friday (1 hr. daily)
Note : The days and timings for the above course can be customized as required. Please contact our office for the same.